The senior management team at BELL works to make construction safety a top priority in the company's overall strategic plan. Safety benefits everyone. Thanks to our focus on safety, our lower insurance rates translate into lower project costs for our clients, along with the peace of mind knowing that construction safety is our most important task on their job sites.
Our proactive culture of safety is based on the philosophy that everyone is responsible for safety and should pursue it in all construction activities. The motto "Safety Starts With Me" can be seen throughout BELL's office and job sites as a reminder to our team members, vendors, subcontractors, and other industry partners. 
Our comprehensive construction safety program teaches employees to take action to protect themselves and others, correct potentially unsafe behaviors, and adopt a mindset of proactively choosing to follow safety rules. 
The construction safety program includes a full range of ongoing initiatives, including safety training for new employees, daily safety inspections, weekly safety meetings, bi-monthly safety director visits, and regular safety consultant visits.
 In addition, all job site personnel are empowered—and required—to proactively address any potential hazards.
Learn more about how we have built and continue to maintain our strong Safety Culture in this article from BELL's President, Eric Pyle, in the AGC's Constructor Magazine.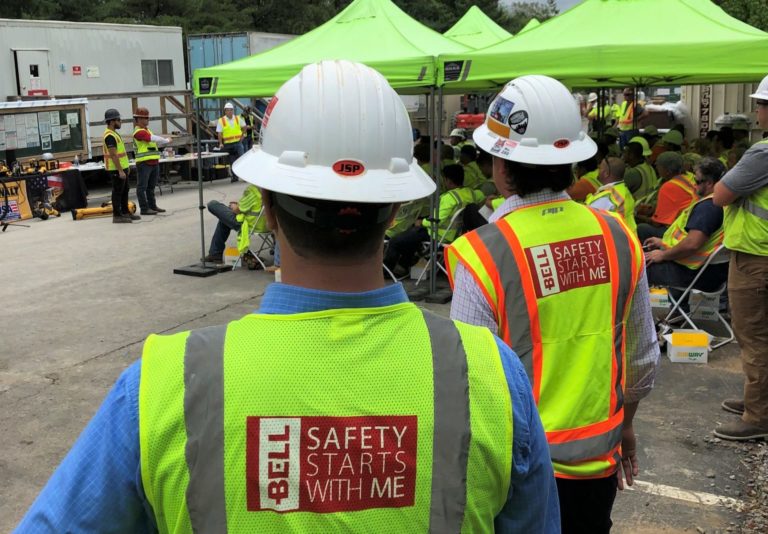 We regularly bring in safety consultants to our job sites to provide demonstrations for our team and subcontractors. Topics have included fire protection, proper harnessing and fall protection, and hand protection.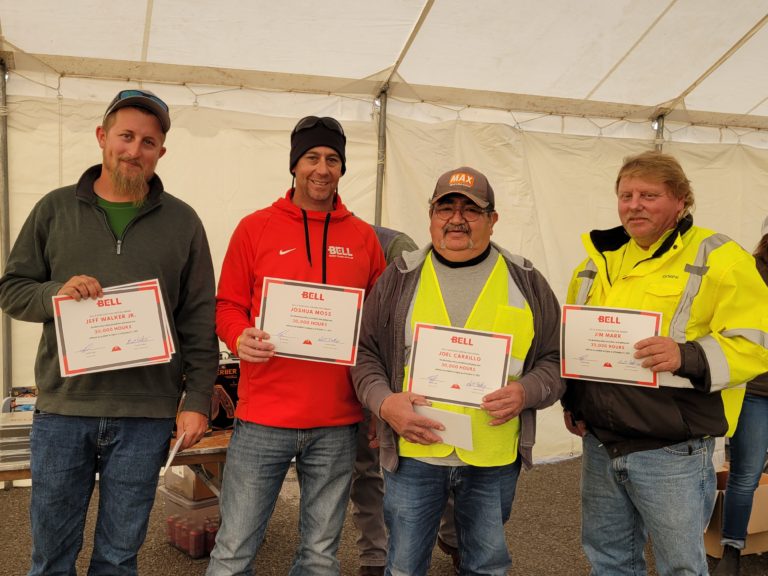 Our annual safety picnic is a fun-filled catered lunch with awards honoring our jobs and individuals for safety-related accomplishments. We give out tons of prizes and certificates to recognize our teams for a *safe* job well done!
Safety is the most important part of construction. That's why we regularly require every person on site to stop working and participate in a Safety Stand Down where we reiterate the importance of working safely, emphasize actively caring for the people around you, and provide additional information regarding any safety topics that need to be top of mind for the upcoming work we will be completing.
Each year, we participate in Construction Safety Week by hosting daily safety toolbox talks covering several pertinent topics. To help keep safety top of mind (literally), we also distribute hard hat stickers featuring the Construction Safety Week seal in BELL red to our job sites. 
Our team deserves a big THANK YOU for embracing safety all the time, especially during the pandemic. Our goal is for everyone to go home the same way they came to work. We appreciate our team members' efforts toward making that goal a reality.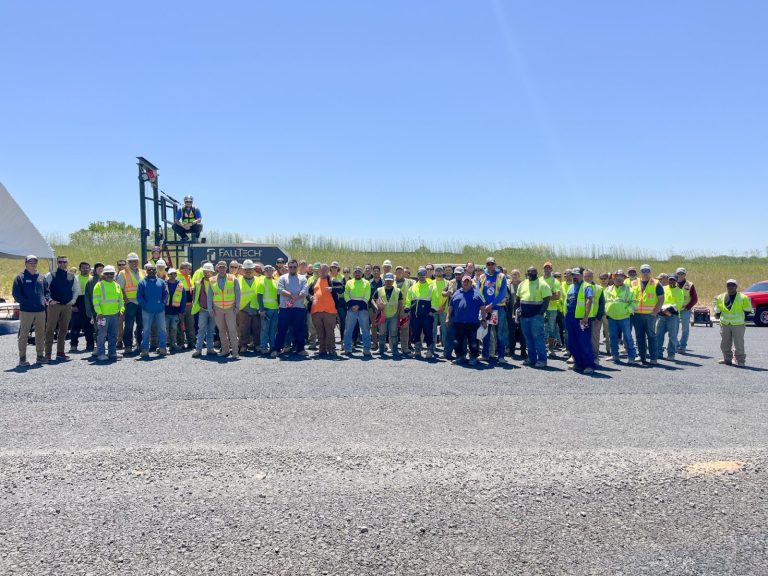 Our Safety Committee is comprised of individuals from various levels and departments across the company. Each year, different participants are selected to participate. We have found that allowing our people to be part of the conversation, as well as creating and implementing safety-related initiatives puts the ownership in each of our team members' hands. 
Learn more about how we empower our employees to improve construction safety in this article from BELL's Executive Vice President of Building Operations, Eric Pyle, in Construction Executive Magazine.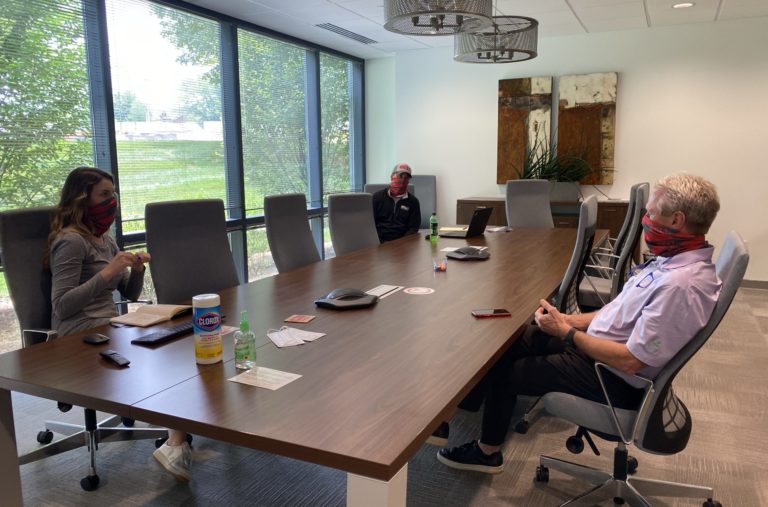 We immediately formed a pandemic response team to proactively address the health and safety of our team members once it was clear that our geographical area was being affected. We then increased safety measures both on job sites and in the office to help our team fend off the novel coronavirus. Posting job site best practices, adding more hand-washing and sanitizing stations/materials, and requiring additional PPE are some of the most visible ways we have helped our essential workers remain safe during the pandemic. 
We continue to monitor the situation, including guidance from local and state government entities and health organizations such as the CDC, WHO, and the Metro Nashville Health Department, so that we can implement or adjust health/safety protocols as necessary.

The Safe & Healthy Construction Pledge was founded in May 2020 by the Associated Builders and Contractors (ABC) in response to the coronavirus pandemic.
As a company, BELL has signed the pledge, which commits that we will take all reasonable steps to increase awareness of threats throughout the construction industry and to protect employees in our company and on our worksites. We commit to implementing a prevention, preparedness, and response plan that includes practicable engineering and administrative control measures to prevent injuries and disease and safeguard total human health.
Learn more about the Safe & Healthy Construction pledge.
Construction Safety Awards
BELL's safety program and accomplishments have been been recognized by several organizations, including:
check out our team in action!