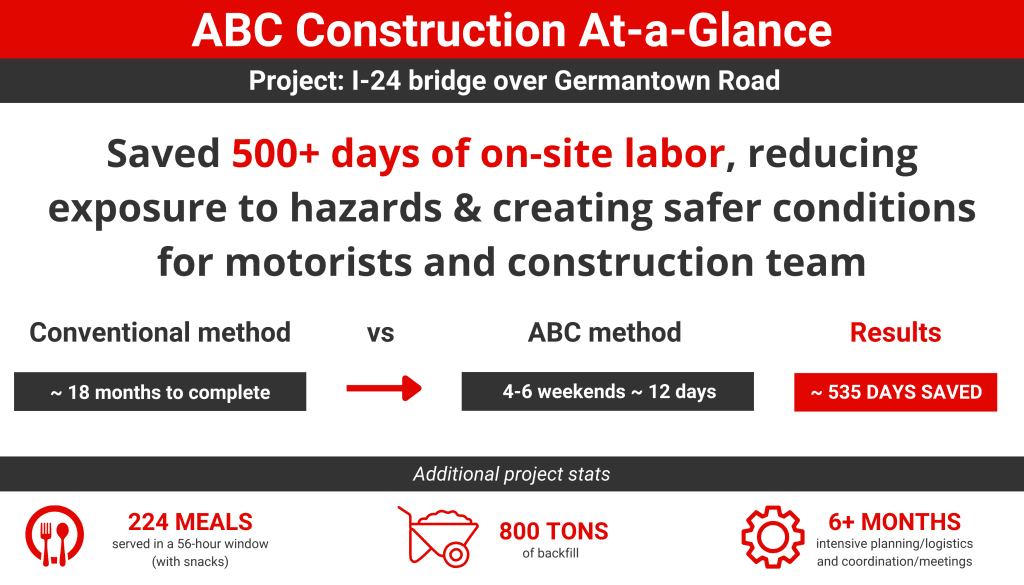 Quarterly Question: Why should you consider accelerated bridge construction to advance your infrastructure?
As part of BELL Construction's commitment to serve as a trusted advisor to our clients and industry partners, we share insights from our team and other industry experts each quarter that may help you plan more effectively for your projects.
Nearly 224,000 U.S. bridges need major repair work or should be replaced, according to the American Road & Transportation Builders Association's (ARTBA) analysis of the recently released U.S. Department of Transportation (DOT) 2021 National Bridge Inventory (NBI) database. That figure represents 36 percent of all U.S. bridges.
Repairs and replacements of such a large number of bridges will take decades if work continues at the current pace of conventional bridge construction. The Accelerated Bridge Construction (ABC) method reduces construction and closure times and minimizes exposure of the traveling public and road workers to construction activities.
The Tennessee Department of Transportation (TDOT) and local municipalities use Accelerated Bridge Construction to build more durable bridges faster and improve safety without sacrificing quality.
We talked with Scott McKinney, Member and Project Executive in BELL's Transportation Division, to learn more about BELL's ABC experience and what clients should know about this construction method.
Why use Accelerated Bridge Construction to advance infrastructure?
Accelerated Bridge Construction (ABC) minimizes the impacts of onsite construction through advanced planning and design. Bridges are completed at an accelerated pace through offsite construction and quick onsite installment, typically completing within 48 to 72 hours. Increased traffic volumes make it more important to reduce congestion within construction zones. Bridge and road closures can also have substantial economic impacts to surrounding businesses. By using ABC techniques, the project team can minimize traffic disruptions and reduce economic impacts. Most importantly, the ABC approach does not diminish bridge quality, safety or durability.
What are the advantages of Accelerated Bridge Construction projects during contruction?
ABC techniques used during the construction phase greatly benefit construction workers and the public in the following ways.
Safety: Both the safety of traveling public and workers are improved with ABC. Naturally, the more time a bridge is under construction, the greater the risk to workers and traveling public, including auto accidents..Prefabricated bridge parts and a plan for quick assembly leave less room for errors that can create safety hazards.
Less inconvenience: The public and business owners experience fewer detours and street closures.
Lower environmental impacts: Less time spent constructing the bridge means less heavy equipment on-site affecting the surrounding environment.
Improved constructability: Prefabricated bridge parts that are cast off-site and shipped, paired with precise designs and construction plans, makes the entire process run more smoothly.
Tell us about the Accelerated Bridge Construction projects in BELL's portfolio.
We have successfully completed numerous ABC bridge replacements for multiple clients across the Southeast.  Projects range in cost from $1 MM to $33 MM. Two of our most notable projects are the I-24 bridges over Germantown Road in Chattanooga, TN, and the I-24 bridge replacement and rehab in Nashville, TN.
The I-24 Chattanooga project had one conventional bridge replacement and one accelerated bridge replacement with various substructure components such as micropiles, temporary shoring walls, and extremely tight working conditions. The ABC project required a 56-hour weekend closure. During the closure, we detoured interstate traffic, demonlished the old bridge, built a new bridge with ABC techniques, and opened it back up to traffic 10 hours early.
The I-24 Nashville project consisted of bridge replacements, deck repairs and resurfacing the entire area. This was the biggest bridge superstructure ever performed in Tennessee at the time, and it was completed one month early.
What should BELL's clients know about ABC techniques and methods?
ABC is one tool in a bridge builder's toolbox. It is not the right fit for every project, but it can have major advantages over conventional construction. Owners and designers should decide whether or not to complete the project using the ABC techniques during the planning phase.  
Have questions about Accelerated Bridge Construction? Please contact us.