Why Giving back matters to BELL
If there is one word to describe Nashville today, it would likely be "change." From the influx of residents moving from all around the country to witty references that the city bird is the construction crane, Nashville has transformed into a "hot spot" for people and businesses alike. According to The Tennessean, Nashville has gained 17,133 new residents annually since 2020, and projections predict that more than 2.5 million people will live in the Nashville area by 2040.
BELL's founder, the late Ray Bell, built his first project in 1970. Over the past 53 years, the company has significantly contributed to the evolution of Nashville's skyline and many of its iconic landmarks, such has the Music City Center, AT&T (Batman) Building, Grand Hyatt Nashville, John Seigenthaler Pedestrian Bridge, Sounds Stadium, Korean War Veterans Memorial Bridge, and Tennessee Performing Arts Center, in addition to countless miles of roadways and hundreds of bridges across Tennessee. Today, BELL has successfully completed  more than 1,000 projects across the Southeast.
Throughout the change and growth, one thing that has remained at the heart of BELL is serving and supporting the areas where we live, work, play, and learn. We sat down with Braissy Canizales, BELL's human resources manager and organizer of community service initiatives, and Josh Littleton, superintendent at BELL and avid volunteer, to learn more about BELL's history of giving back to the community and how BELL is building better communities – not only through growth and new buildings but also through supporting the wellbeing of the people within the community.
Q: How does BELL give back to the community?
Braissy: We always focus on building better, one relationship at a time. What sets BELL apart is that we aren't just interested in building these relationships before and during a project. We continue to work in neighborhoods even after we've completed a project because we're committed to the community and the city and continuously improving it. We like being a part of making Nashville the beautiful city it is.
Q: What are some of the ways BELL gives back?
Braissy: We are deeply involved in a wide range of initiatives that cover many aspects of our city. We support several community events, such as the downtown Nashville 4th of July fireworks show with the donation of sand to support safety and preservation of the city. After the event, we clean up all the sand at Nissan Stadium and surrounding areas. Other efforts to beautify the city include park cleanup and landscaping at Shelby Park and Brooklyn Heights Community Garden.
We not only care about the places within the city, but the people as well. We partnered with The Boys & Girls Club of Middle Tennessee at Christmas and received wishlists from various children. Teams of volunteers went shopping to buy children gifts from their wishlists. We had a big wrapping party to bring employees together and hand-delivered the presents afterward. We've supported Second Harvest Food Bank with food donations and volunteer efforts to package food for Davidson County students in after school care. We've also donated toys to Toys for Tots in partnership with Associated Builders and Contractors – Greater Tennessee Chapter and Associated General Contractors of Tennessee.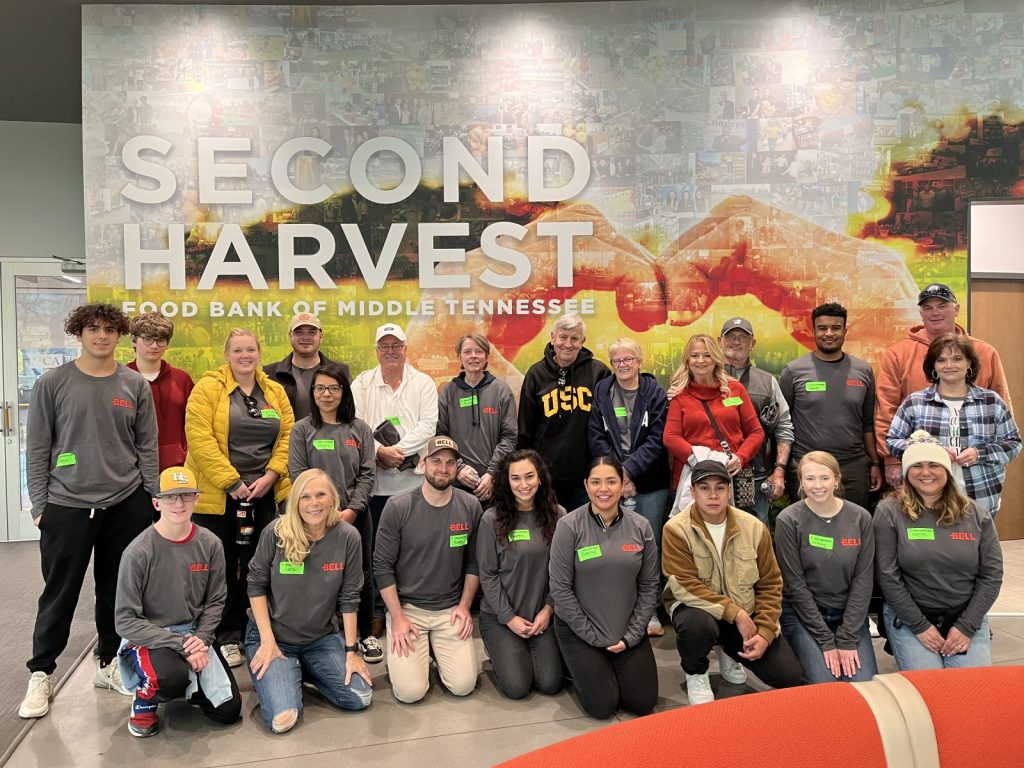 The BELL team and family members volunteer at Second Harvest Food Bank of Middle TN
Q: What is your favorite BELL initiative to give back to the community?
Josh: My favorite volunteer event is definitely the Boys & Girls Club Christmas drive. To see the look on those kids' faces when we delivered Christmas presents –there is truly nothing like it.. Spreading joy and loving the people around you is what community is all about.
Q: How do BELL's core values tie in with volunteering?
Josh: Relationships are at the heart of BELL and have been since I started working here over 20 years ago. We live that out through volunteering and serving our community, relationships with organizations with which we partner, and our company culture. BELL's culture has always prioritized giving back to the community, from its founding by Ray to today's leadership under Eric.
Q: How do BELL's deep roots and history in Nashville play a part in the work you do today?
Braissy: Many of our team members are from Nashville or Middle Tennessee and have seen the positive changes and growth throughout the city. This naturally allows us to have a strong impact because people are more than willing to support the community that shaped them into who they are today. Team members bring their families to some of our events and share these special moments together, which helps instill their love of the city at a young age and continues to foster a culture rooted in community for future generations.
Josh: It's no secret BELL has been here forever. Most of us are locals and have lived here our entire lives. We've built the roads that lead to Nashville, and we've built the skyline and surrounding areas. One of Ray's big dreams was changing the Nashville skyline. He loved Nashville – we all love Nashville and love seeing it grow. I can only imagine the look on Ray's face today if he could see it.
BELL Construction has been — and will always remain — committed to serving and supporting the areas in which we live, work, and play. We know the work we do as a company means more when we're giving back to the communities that support our business and employees.
For more information on BELL's philanthropic efforts in the community, visit https://bellconstructioncompany.com/about/philanthropy/.