Q&A with Superintendent Alexei Jaglowski on the value of volunteering
Following Jaglowski's recognition on ABC Greater TN's "Volunteer of the Year," we sat down with him to learn more about why he believes it's important to give back
Many people are considered leaders by title, but true leaders are people whom others are eager to follow. Alexei Jaglowki, BELL Superintendent, is an example of the latter, and we are proud to have him on our team. One of the qualities that sets Alexei apart is his commitment to giving back. He makes it a priority to volunteer with important industry and community organizations and encourages others to do the same. 
As a result of his commitment to the Associated Builders and Contractors (ABC) of Greater Tennessee's chapter, he was recently recognized as the 2022 "Volunteer of the Year." This special award is given annually to individuals who help the organization with its events, membership, legislative initiatives and beyond. Alexei has been instrumental in growing the chapter's Emerging Leaders board and helped the organization's leaders promote the recent "Yes on 1" campaign to ensure the right to work is codified in Tennessee's state constitution.
We sat down with Alexei to learn more about his volunteer experience and why he believes it's important to give back.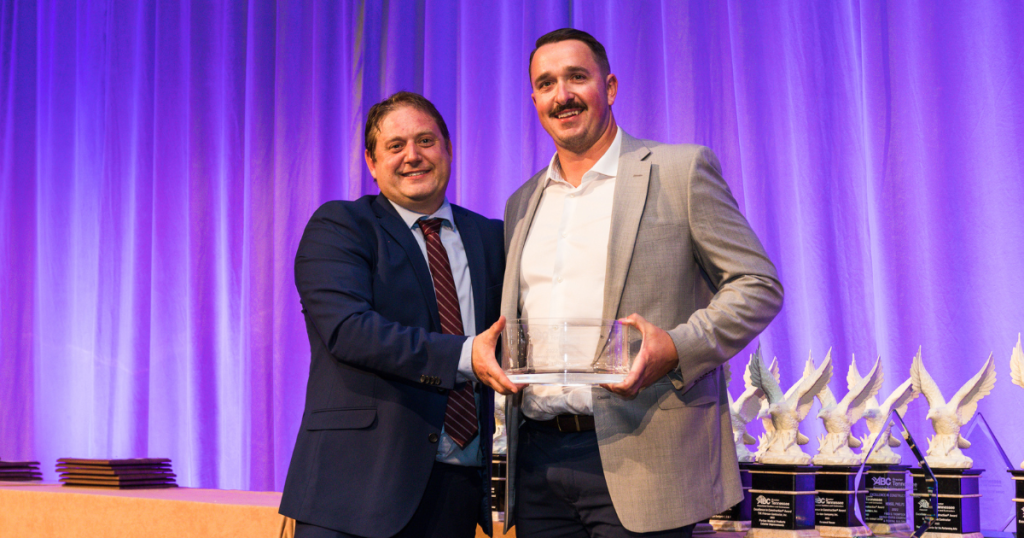 Alexei (right) receiving ABC Greater Tennessee's 2022 Volunteer of the Year Award from ABC Greater Tennessee President/ CEO Clay Crownover (left)
Please tell us about how you currently volunteer in the community and/or industry.
I'm currently a member of the ABC Greater Tennessee Chapter and served as the 2022 educational chair for the chapter's Emerging Leaders group. In this role, I worked with my peers to coordinate the first-ever Women in Construction panel in partnership with the National Association of Women in Construction (NAWIC). I also had the opportunity to support the personal growth of members by offering mini team and career-building classes provided by Dale Carnegie.
What does the Volunteer of the Year Award mean to you?
Being named Volunteer of the Year means successfully connecting with the communities in which we work and building relationships with people throughout the industry.
Why do you believe it's important for leaders to volunteer, especially in the construction industry?
Your name, your company's name and even the reputation of the construction industry is connected to everything we do. As we continue to build great projects across Tennessee, it's important to give back to the communities where we live and work. 
How has volunteering helped you develop professionally?
Volunteering has helped me get to know other community members and industry professionals across Nashville and beyond. Through my involvement with ABC, I've learned that there are always people and policies at work that affect the lives of men and women working across the industry every day. 
What advice would you give to other construction industry leaders about volunteering and making time to give back?
My advice to other leaders is to make time to volunteer. Most people have busy professional lives in addition to their obligations to family and friends. However, if you can plug yourself into an organization with a mission you care about and set aside time to volunteer, it is incredibly rewarding.
What is the most fulfilling volunteer experience you've had while at BELL?
I've enjoyed learning and getting to know how local, state, and federal politics position the construction industry for growth. As Nashville and BELL grow, my biggest priority is to protect the industry's trades and ensure their voices are heard. Being a part of ABC is an important way to keep the construction industry growing in Nashville.